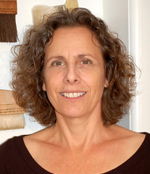 Susan Duhl
Tel: 610.563.8876
SusanDuhl1@gmail.com

Consultations on the Care of Cultural Collections Emergency Assessment, Preparedness and Response for Cultural Collections

Susan provides consultations, assessments, lectures and dynamic hands-on workshops in collections management and strategic preservation planning. Comprehensive conditions assessments evaluate all facets of institutional missions and stewardship. Susan advocates for collections guardianship with informative, practical information, priority recommendations, and tailored training programs for archives, libraries, museums, governmental, academic, corporate and private collections of all types and sizes.

Susan specializes in disaster prevention and strategic recovery of art, archival and historic collections from natural, mechanical, accidental and man-made disasters. Consultations and workshop programs include disaster prevention assessments, pre-incident planning, emergency response and post-incident planning for recovery. Programs are customized to the specific needs of each organization. Active participation by staff and volunteers develops their understanding and capabilities for systematic actions for protection and response in different types of disaster incidents.

Susan has conducted professional level workshops for the National Archives and Records Administration and the American Institute for Conservation and state governmental agencies. Adapting the protection and response systems, Susan continues to works with local, statewide, and international programs, including Canada, Nepal and Greece.

Susan is an active volunteer for the Foundation for the American Institute for Conservation National Heritage Responders (FAIC NHR). She is a Board Member of both the FAIC National Heritage Responders Working Group and of the FAIC Emergency Committee. Susan was a Specialist Archives Consultant for FEMA Hurricane Katrina in New Orleans. Susan responded to the Mississippi coast after Hurricane Katrina; New York and New Jersey after Hurricane Sandy; and in institutions and homes after mechanical system failures, fires, and floods.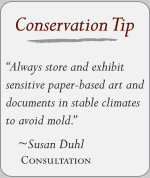 For more tips and guidelines
call or email the ACA.